IceLoss 2.0 – the next generation icing loss assessment model for wind farms
IceLoss 2.0 has now been launched commercially, and the results look very good with the lowest overall validation uncertainty in the industry, coupled with additional options such as turbine specific icing loss results and timeseries of icing losses. The new model is based on extensive research efforts from the IceLoss 2.0 research project funded partly by the Swedish Energy Agency.
Our new IceLoss 2.0 model has been extensively validated with 22 wind farms consisting of around 2000 turbine years of production data. The validation results show an improved average mean absolute error and decrease uncertainty compared to the previous IceLoss model.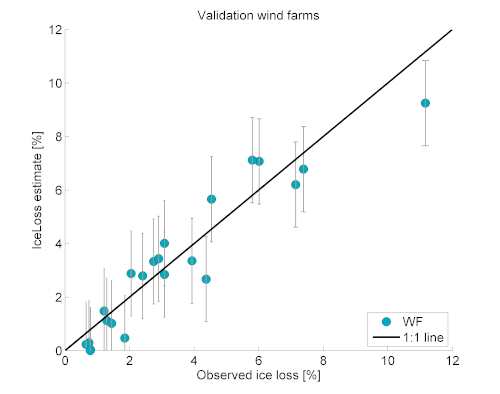 What were the main reasons to update the IceLoss model?
"Even though we have performed over 150 IceLoss projects in the Nordics to-date since 2010, the fast turbine technology trend towards bigger and higher turbines kick-started the need for IceLoss model updating to decrease model uncertainties. The previous IceLoss model was validated with 2 MW turbines in Sweden. The new IceLoss 2.0 model was validated using the latest +3MW technology turbines located not only in Sweden but also Norway and Finland. We saw it as important to utilize the latest operational experiences from the new wind farms being built in the Nordics." says Leon Lee, Adviser at Kjeller Vindteknikk.
What are the key benefits of the new model?
"The new IceLoss 2.0 results are mostly in line with previous IceLoss product results but more importantly, the uncertainty of the icing loss predictions are reduced by 50 % on average. This uncertainty reduction has a positive impact for our clients' business cases." says Øyvind Byrkjedal, R&D Manager at Kjeller Vindteknikk. "This uncertainty reduction is thanks to the novel model calibration approach using the large amount of real production data from the 22 wind farms. We also have an updated ice protection system module for analysing heated turbine blades."
What are the key features enabling these benefits?
"The model has more realistic modelling physics. Now we are modelling ice directly on the full turbine rotor in combination with case results from high fidelity rotor blade flow modelling with CFD. These improved modelling physics are more representative on the operational turbines compared to the reference cylinder at hub height approach that was used previously. We are also improving many features in the weather model for more accurate icing predictions especially in complex terrain where the icing losses can vary significantly with turbine position." says Øyvind Byrkjedal.
More information about the IceLoss product available here: https://www.vindteknikk.com/services/wind-energy/iceloss/
You are welcome to contact us for more info!