MetLive – Real-time measurements and forecasts
MetLive is an online service where you get a personal dashboard for your sites of interest, with realtime view of current measurements and forecasts. Optimized for both wind and icing measurements.
Wind:
In MetLive, you and your team can monitor for example the current wind conditions at a wind farm, realtime readings of turbine SCADA data, the forecasted icing conditions at individual turbines, webcam images, etc.

Screenshot from MetLive showing live wind speed and wind direction (right) and historical data (right).
Icing on powerlines:
In MetLive, we can also monitor real-time ice load measurements from operational powerlines. MetLive combine sensor data with advanced weather models to produce site specific ice load forecasts (up to 2 days in the future), so grid operators can get early warnings before critical loads occur. MetLive for power lines has been developed by Kjeller Vindteknikk together with Statnett, the Norwegian TSO.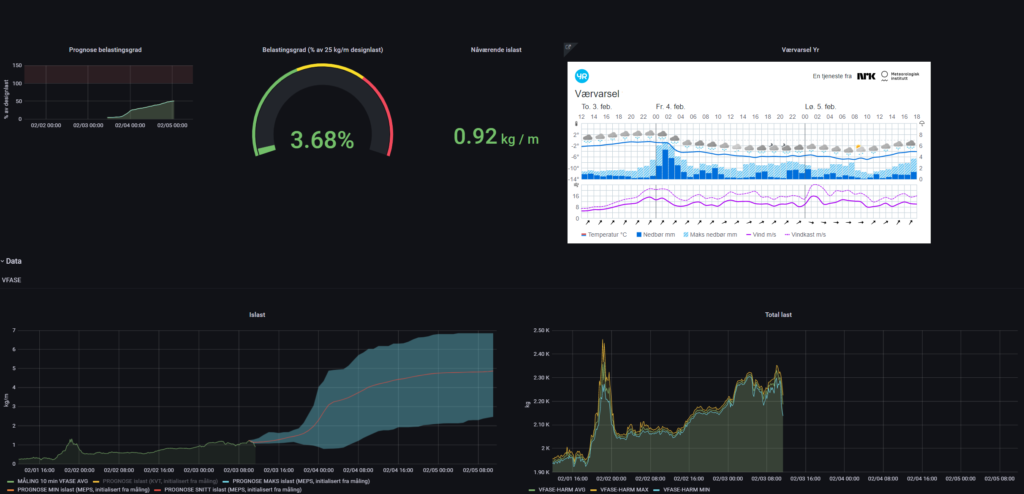 Screenshot from MetLive showing actual ice load (upper left), weather forecast (upper right), historical data (lower right) and ice load forecast (lower left). 
The interface is also well suited for control room displays, where you can get full insight of the current and expected conditions at a glance.
 We provide tailor made solutions for you, collecting input data from various internal and external sources. Want to get an alert if a threshold is exceeded, or a set of conditions are met? We provide alerts via various channels, email, text messages/SMS, webhooks, apps, etc. 
 Please do not hesitate to contact us for more information.