Wind Forecast and IceLossForecast
Wind Forecasting
Kjeller Vindtekknikk delivers running forecasts for your wind park. Every morning you will get a forecast of wind conditions and the energy production. The forecasts give hourly information for the up-coming 36 or 48 hours. The delivery can be suited to your needs, for example, longer forecasts or forecast with higher temporal resolution can be delivered.
The energy production of a wind turbine is determined by instantaneous wind conditions. The production forecast improves the gain of power revenues, since it results in better estimates of the expected production for various time periods. The forecasts are also important when scheduling maintenance of the wind parks. For wind farms exposed to icing, we deliver forecasts of icing along with the production forecast. More information on icing forecast is presented here.
Kjeller Vindteknikk has, in cooperation with the Norwegian Meteorological Institute, developed a forecast model of wind power production. The model has been tested at several wind parks in Norway and is presently operational at Havøygavlen (Finnmark Kraft), HyWind (Statoil) and three Statkraft Energi wind parks (Kjøllefjord, Hitra og Smøla). The basis of the power production forecast model is numerical weather forecasts combined with wind- and production data from the wind park. For the shortest forecasts (1 to 6 hours), real-time production data from the wind park is utilized.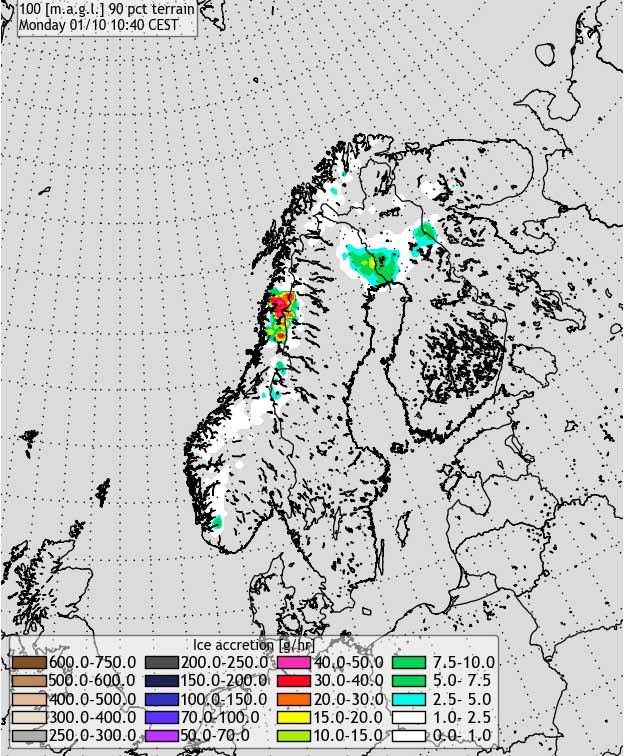 IceLossForecast
Kjellers Operational forecasts can be delivered for both wind farms and other structures where information on icing levels are needed. The forecast is updated 4 times daily and can be calibrated for the site and combined with on site measurements where needed.
Energy trading
Forecast power losses caused by icing
Forecast turbine stops
Avoid losses for blade heating systems
Avoid unnecessary stops during heating
Start heating at the right time
Monitoring system of exposed structures
Please don't hesitate to contact us for further information.